The SPD South Precinct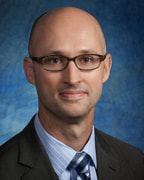 Our Seattle Police Department precinct is the South Precinct. The Captain of the South Precinct is Captain Kevin Grossman.
Captain Grossman has been with Seattle Police Department since 1996. He has served in patrol, as a detective in the Sexual Assault and Child Abuse Unit, liaison officer to the Seattle Housing Authority, supervisor in the Audit, Policy & Research Section, aide in the Chief's Office, supervisor in the Office of Police Accountability, watch commander in two precincts, and the North Precinct Operations Lieutenant. He was a Hostage Negotiator for seven years.
Prior to joining SPD, Captain Grossman earned a law degree from the University of Wisconsin. He worked briefly as an Assistant Attorney General for the Washington Attorney General's Office. In 2017, he eared a master's degree in public administration from the University of Washington.
Captain Grossman is a strong believer in data-driven, problem-oriented policing and is committed to serving the people of the South Precinct.
Captain Grossman is our 12th Captain in less than 10 years.
Two Seattle Police Department maps of the South Precinct and explanations of the challenges of policing in South Seattle are available at
http://southcpc.org/south-precinct-map--boundaries.html
.
---